March came in like a lion, all right—a MILlion! On March 2, 2007 at 10:38 AM ET, the number of available books passed one million. That's right, 1,000,000 books—every one of them available to request! We can't believe it ourselves. Thanks to all who played the Million-Books Contest, and congratulations to the winners, Matt (first place), Amy (second place) and Emily (third place). You can read more about the contest results, the prizes and the winners' reactions to their good fortune on the Contest Results page.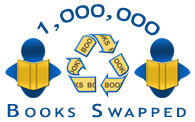 We have some other exciting news that we would like to share: shortly before the million-available-books mark was passed, PBS achieved another milestone: a million books swapped! Yes, more than a million books have changed hands at PBS! That doesn't include Box-O-Books swaps. Kind of takes your breath away, doesn't it? More than a million books have found new homes and new readers since we started this site a couple of years ago. Thank you all so much for sharing your books with each other. The landfills thank you. The other members thank you. And most of all, the books thank you! You have given them new life and new eager readers. What more could a book ask?
Thanks again to everyone who has made PBS work so well. We put a lot of effort into keeping the site running smoothly and are constantly working on improvements to it and on new features to offer to the club, but the members are the heart and soul of the site—you are PBS! Just keep on doing what you're doing: reading and sharing, and we'll be celebrating a new milestone before too long!
Tags: Contests, Milestones