Knowing Your Own Mind
If you've ever felt that something was preventing you from living life to the fullest, two Florida psychologists have a prescription that might be just what the doctor ordered. Doctors Chris Cortman and Harold Shinitzky have combined more than 80,000 hours of clinical experience into Your Mind: An Owner's Manual for a Better Life — 10 Simple Truths That Will Set You Free, a new book that will help readers understand how the mind works by examining "ten simple truths that will set you free."
A special thanks to Dr. Shinitzky for taking time out of his busy schedule and allowing us to ask him a few questions about his new book.  We would also like to thank him for agreeing to send us a couple of signed copies to give away to our blog participants at the end of the week. For more information on this powerful duo, please visit their websites: drshinitzky.com (Dr. Shinitzky) and srqshrink.com (Dr. Cortman). The Winners of the books are: Amanda G. & R Wentz  Congratulations! Thanks again everyone!

We asked Dr. Shinitzky:
Who should read your book & why?
This book is a must read for all humans.  If you walk upright, then its for you.  After decades of providing clinical services for individuals, couples and families, my co-author (Dr. Cortman) and I summarize the top ten issues (or truths) that people struggle with in life and present in therapy.  Before moving to Florida, I was on the faculty at The Johns Hopkins University School of Medicine, Director of Prevention Services (AIT).  My goal has always been to address issues before they become problems.  This makes me a Preventionist. Most people acknowledge that they have struggled with a couple of these truths during their lives.  Whether it applies to their own individual life (goals, self-worth, negative self-talk, making poor choices or trauma) or if the struggles are with relationships, work or family (boundaries, sabotaging, compulsive behaviors), we decided to share our experience with the general population.  The obvious audience would be adults.  It would be great for these adults to then share this wisdom with their children.  We have been asked to translate, "Your Mind: An Owner's Manual for a Better Life" to a high school population.  So, we are in the process of taking the same 10 Truths and organizing the material with clinical stories that are age appropriate.  The reviews of the book have been fantastic.  One suggested that the book is a great self-help for adults, a wonderful prevention road map for children, and will be a perfect book for providers to keep on their bookshelves and hand out to their patients as an adjunct to their therapy.  I have a specialty in Sports Psychology, and players have greatly appreciated this information. They are able to apply the material into their lives and their sport and see immediate results and progress.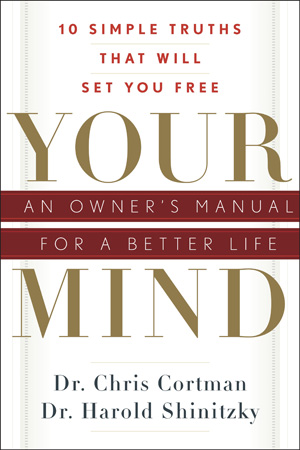 If you had to choose, which of the 10 Simple Truths do you value the most?
That's a great question.  The reality is that each one of the 10 Truths stands alone.  From the start, the reader discovers that their feelings are not some alien experience that occurs without reason, but rather are statements about their own values, attitudes, beliefs and perspective.  Later, we discuss the reality that your behaviors are not as impulsive as one might think. There is not a single voluntary behavior that you engage in which you have not given yourself permission to do.  Understanding boundaries is rather key in life.  One has to learn where is it that I end and you begin. I don't have to personalize or internalize your behavior.  Your behavior is a reflection of your thoughts, values, attitudes and beliefs.  Understanding my needs and values, along with being able to assert these in a productive manner is healthy for each of us.  In the last chapter, Time Does Not Heal Any Pain, the reality is that the only thing that time does, is pass.  We all know someone who experienced some trauma or painful event in their life many years earlier and yet they have not been able to truly move forward in their life since that occurred.  We take the traditional five step model of grief and expand the final step into five new constructive steps to achieve internal peace. To answer your question, the reader will discover that all of the information is helpful.  Some of the truths will validate what they have accomplished, while other truths will help develop and foster the strength, insight and awareness needed to live a more successful life.
It looks like you're already working on a young adult version of the book. When can readers look for that to be released?
That is correct.  We have been asked by Venice High School to adapt, Your Mind: An Owner's Manual for a Better Life for a young adult focus.  Not only do the 10 Truths also apply to children and young adults, it would be more prudent to learn these skills at an earlier age.  We have a series of focused topics and audiences which we are in the process of creating.  Hence, we hope that we will have the younger version in the next year.  But, as we say, the truths are applicable to all and therefore a parent could discuss and encourage the development of each of these truths so that their child is well equipped and ready to deal with life's stress in a healthy manner.  A great quote comes from Confucius; "Catch a man a fish and he will eat for a day.  Teach a man to fish and he will eat for a lifetime".  It is far more rewarding for me to help foster the development of adaptive coping skills that will invariably address issues before they ever become problems.
You're a successful psychologist with 3 offices in South Florida, how did you find time to write a book?
As a Psychologist, I am always considering how to help facilitate the growth and progress of the individuals, couples and families that I work with in my practice.  For years, my patients have been asking me if I have written my thoughtful interventions down in a book form.  For years, patients have asked if they could write down some of the therapeutic suggestions that we come up with in treatment.  Some have audio-taped our sessions so that they can review the information at a later time.  I have been the Mental Health Correspondent for ABC and FOX, which provided me with a forum to disseminate my clinical experience to a large viewing audience.  Throughout my career, I have frequently been asked to be the keynote speaker nationally and internationally on a multitude of topics.  Again, as a Psychologist who focuses on Prevention, I always knew that I would organize my clinical information into a book form.  During one of my presentations, one of the audience members found what I discussed to be compelling enough to introduce himself and compare our mutual clinical interests.  As it turned out, that audience member turned out to be my co-author, Dr. Cortman.  We both have successful and busy practices.  We live in two separate regions of the state, but we both were driven to create a manuscript which could take lessons from the years of experience and proactively share them with the general population.  Though, writing the book required a significant commitment, the time we spent on this work turned out to be very energizing and rewarding.  We have been asked to co-present at many Grand Rounds, conferences and symposium.  As co-presenters, we share the ability to be informative and entertaining. We will see, but it appears that we are being recruited and groomed for some larger television opportunities.
Tags: Authors, Book Recommendations