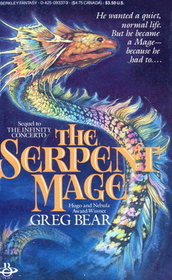 Review by Cyndi J. (
cyndij
)
The Serpent Mage by Greg Bear is a direct sequel to The Infinity Concerto, which Cyndi reviewed on last week's Fantasy Friday blog post. Here is the link to that review: The Infinity Concerto.
Michael Perrin has returned to the "real" world after escaping from the Realm, the world of the Sidhe. To him, it seemed as though he were gone for a few months but on Earth five years have passed. (One of the funnier bits of this book is when asked his age and he says "It's complicated".)
Michael is fully aware now that he's been chosen and trained to do something – he thinks it's probably to bring humans and Sidhe back together after millions of years. How to do that is still a mystery. Michael knows his magic powers aren't up to the task.  But something is happening – there are reports of "hauntings" all over the world, and in an abandoned building in Los Angeles, the corpses of two women mysteriously appear. Michael knows these are the dead bodies of the two who guarded the gates to the Realm. He doesn't have a lot of time to figure things out.
Meanwhile, the will of his friend Arno Waltiri has stipulated that Michael is in charge of Waltiri's estate. Michael begins living in Arno's house and cataloguing all the papers and musical scores that made Waltiri famous. Here too, he doesn't know quite what he's doing, so when a UCLA music grad approaches him about Waltiri's infamous Infinity Concerto, Opus 45, he takes her help.  Michael has found the manuscript for the Infinity Concerto and Kristine is determined to have it performed.  Bear either knows music well or had a lot of  help – I have to assume it was accurate or why bother – but most of the musical commentary was completely lost on me.
I found this book warmer and less harsh than THE INFINITY CONCERTO.  Good sympathetic minor characters – Robert Dopso, the police detective, Michael's parents.  But it spends a lot of time in Michael's head, which slows down the action a lot.  There were definitely things that didn't gel for me; for instance, I'm not entirely certain what playing the Infinity Concerto actually did or exactly what Michael took from the Serpent Mage.  I really liked how bits of our mythologies were woven into Bear's version of human evolution, I liked that Michael went back to the Realm, and the imagery of the various Sidhe coming back to Earth was very nice. I had issues with the "magic is passed through the female" bit. It's like someone told Bear he needed more female magicians and he grudgingly added one.  Dodger Stadium was a very nice touch, and so was the wine, and I laughed when Michael meets the Serpent Mage (because of course that's who it is).  And I felt the whole idea of songs of power being created in many different disciplines was intriguing. All in all, a nice sequel with a happy ending, but while there's a lot happening it takes some patience to get there.
Tags: Book Reviews, Book Suggestions