Review by Mirah W. (
mwelday
)
Kate Morton's The House at Riverton, The Distant Hours, and The Forgotten Garden each made me a genuine fan of the Australian author.  With some historical accounts and modern-day connections, Morton delivers novels with suspense and characters with so many facets you wonder if you'll ever really figure them out. When I had a chance to attend an author event for Morton a couple of years ago I was so excited, and she did not disappoint.  Kate was down to earth and spoke honestly about the ups and downs of being a writer.  She also spoke about how she would get intrigued by real life events and become inspired to write, which is how she got some ideas for The Lake House.
The Lake House begins in 1933 at the estate of the Edevane family.  During the night of their midsummer party, the family's young son goes missing.  There are no leads and the mystery goes unsolved.
Fast forward seventy years to Sadie Sparrow, a detective who finds herself on the outs with the career she loves because of her blurring of the lines in a case and getting too close to the mother of a victim in one of her cases.  Sadie is feeling out of sorts while dealing with a suspension from the force and escapes to her family in Cornwall.  While there, Sadie discovers the Edevane estate and learns about the haunting disappearance of the young boy.  Not having her job to go to and a crime to solve, Sadie locks onto this mystery.
Through reaching out to an older sister of the missing boy and the original detective on the case, Sadie begins to unravel family secrets that have been buried or denied for decades to help bring closure to his family.  She finds relationships between the Edevane case and the case that lead to her suspension in a way that completes the novel.
Kate Morton combines a mysterious event with classic story telling to draw the reader into the Edevane home.  The characters are complex and haunting and leave you searching for more answers with every chapter.  I would give this a solid 5 out of 5 stars.  I greatly enjoyed the story and felt drawn into the mystery.  I thought I had a good theory but that was turned on its head and a different story unfolded than I was expecting.  When I give a book 5 stars it must be a book I would be willing to read again, and I think I could read The Lake House again and find small hints throughout that I missed the first time.  Morton is a joy to read and I encourage all who enjoy mysteries and classic novels to give her a chance.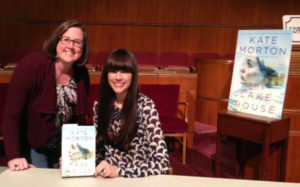 Mirah with Kate Morton at her book event promoting The Lake House
Tags: Book Recommendations, Book Reviews, Book Suggestions, historical fiction