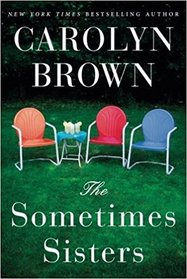 Review by Mirah W. (
mwelday
)
I read The Sometimes Sisters on a whim. I've never read anything else by Carolyn Brown even though she is a rather prolific writer with 90 novels. I was a bit unsure since it was labeled as contemporary romance fiction and I don't read much romance, but I decided to give it a chance since the story sounded complex.
The 'Sometimes Sisters' are Tawny, Harper, and Dana.  Dana shares a father with Tawny and Harper, but their lives have been very different and their relationships with one another are strained.  Raised separately, the three sisters find they have little in common and each sister bears resentment for the others. Their only opportunity to spend time together was during the summers when they were younger and they would spend with their grandmother Annie.  It has been years since they have all seen one another and none of them have visited their grandmother Annie regularly in recent years, for fear of disappointing her with what has happened in their lives.
Now their grandmother has passed away and the sisters are back at Annie's Place to help run the small lake resort, café and store.  Guiding them through their grief and teaching them about the business is Uncle Zed, the best friend and business partner of their grandmother.  Through their grief, each sister confides in Uncle Zed about why they stayed away and why they have a hard time opening up to the other sisters.  There are tears, arguments, misunderstandings, and heartaches along the way but will the sisters find a way to live together to keep their grandmother's business?
I liked the overall story of The Sometimes Sisters and the romance (thankfully) was secondary to the plot.  I liked the characters but did find it a bit disappointing how their stories were revealed in a rather formulaic way. Some plot points were rather predictable and I think there were missed opportunities that could have offered more depth. The dialogue was a bit stilted and just didn't seem to have a natural flow.  Not being squarely in the romance column made this book more enjoyable for me but I think there were missed chances to take this novel to the next level of complexity with the characters. I'm settling on 3 out of 5 stars for 'I liked it' since The Sometimes Sisters was enjoyable even with its faults. This is not a book I would read multiple times but I am willing to read another book by Brown.
Tags: Book Recommendations, Book Reviews, Comtemporary Fiction, Fiction