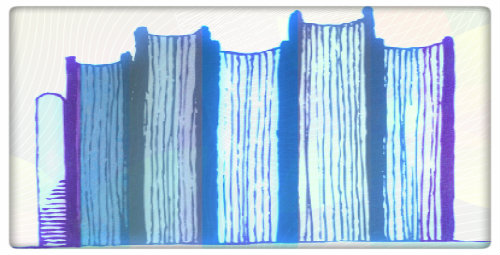 Why is it that we love books so much? Is it the solid feel of them in our hands? The cover art? The new-book smell? The old-book smell? Is it being able to tell how far we've read into the book (and how much is left) without even looking? Is it that they can be read anywhere, without batteries or technology of any kind? Is it that our eyes get tired from screen reading in a way that they don't from reading ink on paper? Is it that we can continue to read our printed book on an airplane during those times when digital devices must be turned off? Is it that we actually own printed books (not just the right to read them), and can put them on a bookshelf when we've read them, or lend them or swap them?
For us, it's all of those things! And we're clearly not alone: publishers are again reporting a significant fall in ebook sales, while the sales of print books continue to rise, for the second year in a row.
We have nothing against ebooks — we think any kind of reading is great! We know that ebooks have their conveniences (for example, they're lightweight to pack for travel, and the ability to enlarge the font can be useful for visually impaired readers). But we're glad they haven't replaced the real thing. Because we love the real thing so much. Don't you?
We bet you do! In fact, we're inviting you to tell us the one main reason why you love print books … if you do, you'll have a chance to win a free book! The book is a brand-new hardcover of a very heavily wishlisted book — the New York Times Bestseller Luckiest Girl Alive by Jessica Knoll.

Luckiest Girl Alive
by
Jessica Knoll
ISBN 9781476789637, Hardcover
A young woman is determined to create the perfect life — husband, home, and career—until a violent incident from her past threatens to unravel everything and expose her most shocking secret of all.  A riveting debut novel that reads like Prep meets Gone Girl, described by Reese Witherspoon as "one of those reads you just can't put down!" This book currently has over 400 active wishes in the club.

Make a comment below before noon ET on Friday, May 27, 2016, and that will enter you into the random drawing to receive the book. NB: Contest open to PaperBackSwap members only (join here!).
Here are a few comments from some of our members to get you thinking:
"There are too many awesome bookmarks out there to never use them! I have some really old ones passed down from family members that make me smile every time I see them. You don't get to use those bookmarks with ebooks!"  ~ Jill H.
"It's very nice to be able to pass a book around the family before I swap it."  ~ Rick M. (RickMatt)
"I really prefer to hold a physical book, and the feel of the pages as I am turning them."  ~ Diane G. (icesk8tr)
"I like the feel of a real book 📚.  I find them easier to read and not as hard on my eyes 👀 as an e reader."  ~ Angela H. (Halti4)

Tags: Book Suggestions, Contests, PBS Market