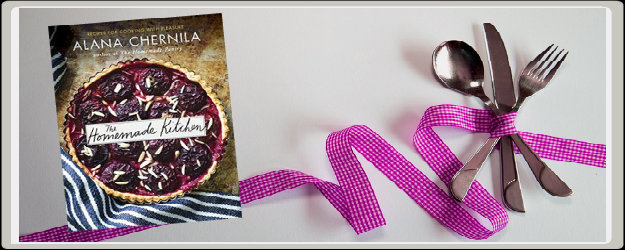 We can't imagine life without books. They've been with us forever– from the fairy tales we read as children, through novels and science fiction and thrillers and memoirs, they've offered escape, instruction, entertainment, laughter and wisdom.
One thing we keep finding out: the genre of a book doesn't necessarily predict what it might add to your life. Young adult books can give new perspectives even to grown-ups; some humorous books can contain a deeper truth.
So it shouldn't have surprised us when we stumbled across some serious wisdom in a cookbook! Yes, a cookbook.
It says Start where you are. Feed yourself. Do your best, and then let go. Be helpful. Slow down. Don't be afraid of food. Those are among the notes that Alana Chernila has on her refrigerator, and they also make the chapter headings for her cookbook, The Homemade Kitchen: Recipes for Cooking with Pleasure.
The book goes right to the heart of a complex daily struggle for many. To eat organic, local, fresh and healthy — to do everything right — while the reality may be a grumpy hungry family at the end of a long day of work. Alana admits that sometimes she hates cooking dinner too! The Homemade Kitchen is a lovely cookbook — it's beautifully photographed and includes basic recipes as well as fancier fare. But the author's philosophy offers an extra dimension — like many books, this one is more than the sum of its parts.
Encountering The Homemade Kitchen reminded us again to stay adventurous in reading, to try books that might not be in a favorite genre, or a new author we've never heard of. Members have often told us that PaperBackSwap makes it easy to discover new authors or genres, since it's not a huge commitment to get a book, and every book can be swapped again for a different one when you're done reading.
Written as much for the reader as the cook, The Homemade Kitchen covers a globe's worth of flavors and includes new staples (what Alana is known for) such as chèvre, tofu, kefir, kimchi, preserved lemons, along with recipes and ideas for using them. Here, too, are dishes you'll be inspired to try and that you will make again and again until they become your own family recipes, such as Broccoli Raab with Cheddar Polenta, a flavor-forward lunch for one; Roasted Red Pepper Corn Chowder, "late summer in a bowl"; Stuffed Winter Squash, rich with leeks, chorizo, apples, and grains; Braised Lamb Shanks that are tucked into the oven in the late afternoon and not touched again until dinner; Corn and Nectarine Salad showered with torn basil; perfect share-fare Sesame Noodles; Asparagus Carbonara, the easiest weeknight dinner ever; and sweet and savory treats such as Popovers, Cinnamon Swirl Bread, Summer Trifle made with homemade pound cake and whatever berries are ripest, and Rhubarb Snacking Cake.
In this follow-up to Alana's wildly successful debut, The Homemade Pantry, she once again proves herself to be the truest and least judgmental friend a home cook could want. ISBN 9780385346153

We are giving away a free, brand-new copy of this cookbook to one lucky member here on the Blog! Leave a comment telling us about a book that surprised you — that you didn't expect to enjoy as much as you did– before the end of Sunday June 26th, and we'll choose a commenter at random to receive The Homemade Kitchen . We'll announce the winner here in the blog next week! NB: Contest open to PaperBackSwap members only (join here!).

Tags: Book Suggestions, Contests, PBS Market