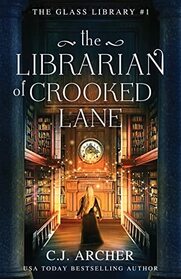 Review by Melissa B. (
dragoneyes
)
This was a delightful surprise. Although, I thought I would enjoy this book, I didn't realize that I would relish it as much as I did. There is a smattering of magic and romance with a heap of mystery. While I am not the romance type, it was nicely done and I actually liked it.
The story centers around Sylvia Ashe, a librarian that loves her job but not necessarily who she works for. Her days are made brighter on the times that her dear friend, Daisy, pops in unannounced.
Sylvia's past is unknown. Never knowing her father and her mother refusing to talk about it, all she could do is guess. Then she finds that she might be descended from magicians. Although doubtful, she sets off, with help from Daisy, on a quest to find out. She ends up meeting Gabe, a handsome war hero, and hopes that he can help. He ends up not having answers to her questions but in a tangle of events, they both help each other on a mission to find out who stole a painting.
The adventure was fun and the characters were magnificent. I truly had lots of fun reading this story. I would've have loved it more if it delved deeper into the magic but hoping to see that happen in book two, The Medici Manuscript.