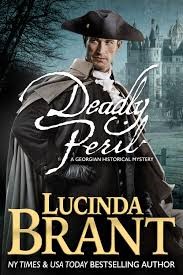 If you havent yet entered to win one of 5 copies of Lucinda Brant's brand-new book, Deadly Peril, here is your chance.
Lucinda Brant has offered to give two copies of Deadly Peril, and three audio codes good for an audio book download of Deadly Peril to members of PaperBackSwap who comment on the Author Interview with our Member Jerelyn H. (I-F-Letty). Click on the link to read the interview and enter the contest:
http://blog.paperbackswap.com/author-interview-and-book-give-away-with-lucinda-brant/2016/01/
We will choose 5 winners at random on Sunday, February 15, 2016. Good luck to everyone!
Thank you Ms. Brant and Jerelyn for a great interview and give-away!
Tags: Authors, Book Recommendations, Book Suggestions, Contests