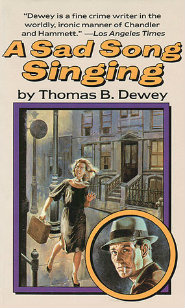 Among such knowledgeable readers as the people who read this blog, confusion will inevitably arise due to the similarity of the names Thomas B. Dewey and Thomas E. Dewey. Thomas B. wrote mysteries starring the one-named PI Mac. Pictured left, Thomas E. was a New York Republican about whose facial hair Herbert Hoover observed, ""A man couldn't wear a mustache like that without having it affect his mind."
Thomas B. Dewey wrote about 16 Mac novels from 1947 to 1970. A Sad Song Singing was written in 1963, about half-way through the life of the series. Mac's stomping ground is Chicago. One theme in Dewey's books is lost youth, so in this one features a seventeen-year-old girl who has been driven out of her country town by gossip to the big bad city. Her guitar-strumming folk song-singing boyfriend has left her with a locked suitcase, telling her not to open it and that he'll be back for it. But three thugs are after the suitcase and will stop at nothing to get it. The girl hires Mac with money she made waitressing in a coffee house. As in the music-related mystery Blues for the Prince by Bart Spicer, this novel has cool period details about the folk music, beatnik, and hootenanny scene of the late Fifties.
There are also hints of the generation gap that was to receive so much attention in the middle Sixties. Mac is in his mid-thirties. As quiet, sensitive, and compassionate as Ross Macdonald's Lew Archer, Mac thinks, "I had no way to read what was in her mind." This is a common enough response to teenager females but especially ones who learned at home from an early age never ever to disclose anything that was going on in their heads.
I thought the prose was subdued, if well-crafted and eminently readable. The thugs lack names, which implies that they are relentless forces that we can't help fearing. From Elkhart, Indiana and having lived all over the Midwest, Dewey effectively evokes the country towns outside Chicago and Gary. This novel was good enough to put me on the look-out for others in the Mac series or his other PI hero, Pete Schofield who solved cases with his red-headed bombshell of a wife Jeannie (which I pronounce "genie").
In 1001 Midnights: The Aficionado's Guide to Mystery and Detective Fiction, critic and mystery writer Bill Pronzini hailed A Sad Song Singing as "one of the ten best private-eye novels ever written" and praised the book for its "emotional depth and impact." In 2007 Pronzini told an interviewer, "My favorite character is Thomas B. Dewey's private detective Mac, who is hard when he should be but still human and sometimes vulnerable. I tried to create the same kind of mixture with Nameless."