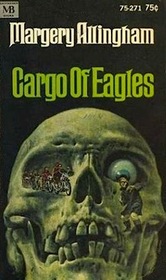 Last novels by a writer often show a falling off of powers. But I can't say this is true of this last Albert Campion mystery by Allingham. It was in fact finished by her husband after she passed in 1966.
Allingham observed changing times, but she loved the old England of out-of-the-way places with insular cultures as portrayed in her 1948 mystery More Work for the Undertaker. In this one she includes two youth gangs, the Mods and the Rockers. They were past their 15 minutes of fame by 1965, but their being out of place is balanced by the excellent portraits of the secretive inhabitants of Saltey and its long history of smuggling.
PI Campion has been asked by the Yard to look into a killing that may or may not be linked to the release of a prisoner. The ex-inmate may know the whereabouts of stuff of great interest to the government. The murder victim left her house to a woman doctor who was an outsider to Saltey. The old whodunit stand-by of poison pen letters adds to familiarity.
The wrap-up is based on notes that Alingham had made until she could not write anymore. I thought the ending worked quite well and could not identify where another author had to take the reins.
Recommended especially to readers who put Allingham in their Top 5 of Fave Mystery Writers.