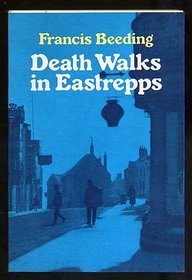 In the early 1980s Dover Publications reprinted classic British whodunits from the first half of the 20th century. Their selection criteria guided them to choose well-written stories that had the familiar elements that we mystery readers like to see in Golden Age mysteries: unique London enclaves, the quiet English village, foggy nights, dotty Dickensian characters, horrid deeds, imperturbable inspectors, plot twists galore with stolen love, impersonations, poison pen letters, etc.
Critics say Death Walks in Eastrepps (1931) was the best of the over 30 novels written by the writing team of Hilary St. George Saunders and John Palmer. The most interesting aspect is that the plot is told through many points of view. During the courtroom drama, we view the action from the points of view of the jury foreman, a court stenographer, a constable, and a playwright.
Vincent Starrett (1886-1974), an American writer and journalist, considered this book "one of the ten greatest detective novels." This was also reprinted more recently (2011) by Arcturus Publishing in their Crime Classics series.