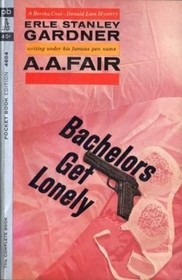 Bachelors Get Lonely
by A. A. Fair (aka Erle Stanley Gardner)
This 1961 outing is an enjoyable Bertha Cool / Donald Lam mystery.
Bertha, the owner-operator of a PI agency is elated that the firm is attracting clients. She's a comic miser in the mold of Uncle Scrooge and Mr. Crab so she takes on jobs that stretch the resources of her partner Donald. In this one, in his efforts to do right by damsels in distress, Donald finds himself almost out of his depth with the cops and their annoying wish to charge him with murder.
As in the other novels in the 30-book series, every babe that crosses Donald's path falls for him (including a stripper named Daffodil) but he's a gentleman all the way, except when he's ignoring his secretary Elsie Brand's "come-hither" ways and calling her "Sister."
Also as usual, the cops are contemptuous of constitutional rights. This gives Gardner a chance to pass along advice on how to deal (to whit: "I refuse to talk to you, I will remain silent, until I consult with an attorney") if life plays a dirty trick on you.
The plot and wrap-up are not quite as outlandish as a Perry Mason story. The dialog is snappy with plenty of antique turns of phrase and only rarely does a character use a big word.