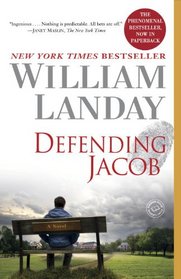 Review by Cheryl G. (
Poncer
)
This legal thriller took me quite by surprise. As a genre, I have enjoyed reading legal thrillers and courtroom dramas for as long as I can remember. A great genre for escaping the grunt and grind of everyday life. John Grisham, Scott Truro, Michael Connelly… they have all kept me entertained. But I have to say, that Defending Jacob by William Landay has now risen to the top of the list. There is good reason that this book became a bestseller.
The book begins with testimony from a grand jury hearing; the witness being questioned is a 'former' Assistant Attorney. It is from his point of view that the book is written. The book continues at a good pace, not rocketing and careening, but slowly and surely building a story of meaning of this attorney and his family when personal life and work life collide.  As the reader, my sympathy was with him the whole way through the book. His character is well defined and very human, and relatable.
Through several twists, and many chapters, the grand jury testimony continues, and it is this testimony that eventually brings the book to its stunning conclusion. With the last page read, I said aloud, "Wow!" It is a book that will stay with me a while. With things to turn over in my mind. Thoughts of "What if…", "How would I react if…". This is a book that made me think as well as feel. And a great book to escape into during this time of social distancing.