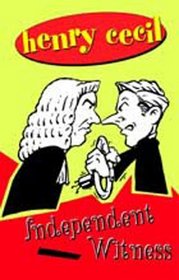 The English judge Henry Cecil (1902 – 1976) wrote comic legal fiction. Think of John Mortimer's Rumpole stories, though more gentle and less acerbic, just as clever, funny, and enjoyable. Cecil will call to mind P.G. Wodehouse in that Cecil uses stock characters like the dumb colonel, the obsessed widow, the silly young person, etc.
This novel from 1963 describes a hit and run case in which a member of Parliament is accused of not only hitting a motorcyclist but fleeing the scene. Cecil has a variety of comic characters take the stand. The dialogue-driven cross-examinations should be read slowly and savored. While this is not a typical whodunit, I still recommend it to mystery fans since there is a traditional surprise at the end.
Cecil's humor is very English, wise, and humane and not as silly or zany as Wodehouse's jesting is. Mercifully, to my mind, but different strokes. Cecil's comedy is smart, with lucid prose, dazzling dialogue, and difficult legal points explained gracefully and comprehensibly. Cecil was a barrister and high court judge himself so his views on evidence, judges, juries, lawyers, and clients are worth listening to. The eager reader doesn't mind his digressions on topics such as the thought processes of ordinary people who are would-be jurors or lawyers and judges who talk too much.
His legal fiction from the Fifties and Sixties is still in print, because his wit, style, intelligence, and deft plotting still provide much interest and sheer reading pleasure.