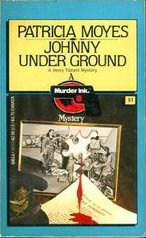 The British mystery writer Patricia Moyes created Detective Chief Superintendent Henry Tibbet and his Emmy. Her 19 mysteries appeared between 1959 and 1993.
Johnny Under Ground is based on Moyes' WWII Royal Air Force experience where she served as a radar operator and flight officer.  Set in 1966, the opening takes Emmy to a reunion of officers served at an airbase in England during the war. Scandal around the sudden demise of a long-dead colleague re-surfaces. When one of the reunited officers ends up murdered, Emmy becomes a prime suspect. All the old comrades in arms, who may or may not have something sinister to hide, turn on Emmy to protect themselves. One thing about these old-timey English mystery writers – they sometimes had a stoical view of the roads to hell people take with their eyes wide open. Kind of grim, but kind of real.
In fact, though, the appeal of Moyes' Henry and Emmy series offers various attractions. For one, the characters are very English. As an example of the deep English respect for privacy, Emmy realizes that she didn't even know the name of the boy she loved because everybody during the war used nicknames or last names. For another, their marriage represents a stability in personal relationships that readers like to see. Of course, Henry's job reassures us that most murders won't going running around doing in folks like us.
Finally, this mystery lays down smart clues to follow for readers that like puzzles but also turns out as novel of manners with a genuine literary sensibility a la the work of Margery Allingham.