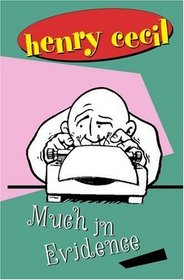 Taking £100,000 in cash out of the bank to play the ponies at a later date, bald and lame Mr. Richmond is persuaded to insure it by his banker. Luckily. That same night he is robbed of the entire treasure and conked on the head by two house-breakers disguised in the red noses and long white beards of Santa Claus – or Father Christmas, as the British say.
His insurance company, though grumpy over the whole matter, pays out the claim. But their investigator, Miss Clinch, remains highly skeptical – or sceptical, as the British have it – of Richmond's version of events.
She makes deep dives into the records of past claims, not as easy a task in back in paper-ridden 1957 as it is nowadays with our complete and accurate in every way banks of data. Three different insurance companies say they dealt with a lame and bald man on three smelly claims. Miss Clinch finds that Mr. Richmond's typewriter wrote letters to the scammed insurance companies. Mr. Richmond ends up in the dock, with the two coincidences of appearance and typewriter as damning circumstantial evidence against him.
As is usual with Cecil, the plot does not involve a murder, which makes a nice change from the usual crime novel. The dialogue is clever and clear. The characters have a lot of variety from the quietly competent defense lawyer Stanhope to the barrow boy Mr. Brown to the coolly professional home invaders educated at a tony private school – or public school, as the British say. The alcoholic solicitor Mr. Tewkesbury makes a re-appearance from The Painswick Line; I don't usually like alky humor but he's pretty funny in a 'W.C. Fields as Mr. Micawber' way. Full of twists that are impossible to predict, the plot hinges on coincidences, all piled high until the whole edifice comes tumbling down in a rousing climax that borders on fantasy.
Henry James said that Ulysses S. Grant's memoirs had a "hard lucidity." Cecil's lucidity is light, with plain prose, graceful dialogue, and difficult legal points explained comprehensibly. Fans of comic novels, courtroom fiction, and dry English humor will enjoy this short novel during plane trips or hospital stays. The acceptance of human beings as they are is cheerfully realistic.