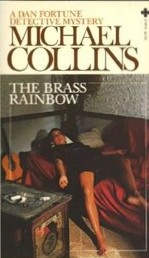 It is 1969. A two-bit gambler comes to one-armed private eye Dan Fortune to arrange an alibi. He doesn't want to take the rap for roughing up a rich guy from whom he was trying to extract a gambling debt. Fortune refuses. The very next day the rich guy is found in his ritzy apartment stabbed to death.
The cops are after the two-bit gambler, who has disappeared. Fortune doubts the gambler has the heart to turn killer. Though he has no client, he works to find him and clear him. Fortune is a defiant cuss so he takes pleasure in disregarding the cops when they pressure him to drop the case.
This was the second of 19 Dan Fortune novels, making it a very long running series. The first in the series Act of Fear won the 1968 Edgar Award for Best First Novel. Collins wrote in the hard-boiled tradition of Hammett and Chandler, but also with the social concerns of Ross Macdonald. His unadorned prose has energy and confidence. He focuses on how characters found themselves in a bad situation and how they cope. We never lose track even when the suspenseful twists and turns get mighty complicated.
Michael Collins was one of many pen-names of Dennis Lynds (1924–2005). He was raised in New York City and like many born in the Twenties he fought in WWII. He won a Lifetime Achievement Award from The Private Eye Writers of America in 1988.