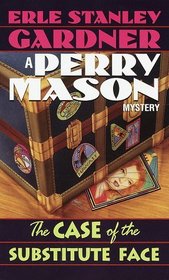 This is the twelfth Perry Mason mystery, published in 1938. Unusually for Gardner, this murder story begins not in the super-lawyer's LA office, but on the high seas, on a cruise ship embarking from Honolulu and bound for San Francisco.
A distraught Mrs. Newberry seeks Perry's professional advice. She suspects her family's vacation is being paid for with newfound wealth that her husband Carl embezzled from his former employer. Mrs. Newberry is worried that exposure of her husband's sticky fingers and the resulting scandal would damage the future prospects of their daughter Belle. Because Perry has been charmed by Belle's vivacity and dislike of sham, Perry says he will help the family through its problem.
Mason calls his PI Paul Drake to execute a plan. He will try to cut a deal with Carl's former employer whereby Carl can keep out of The Big House by agreeing to return the remaining money. The plan has a chance but is blown up when Carl's murder takes place.
Excellent scenes entirely of dialogue feature Mason interviewing persons of interest. For comic relief, Mason performs a B&E with a Paul Drake, who plays a sidekick like Booboo, Ron Weasley or Bess Marvin with lots of doubt and trepidation but dependable loyalty in the end, no matter the trouble the hero drags them into. As for the damsel in distress, Della Street goes missing and an alarmed Perry pulls out all the stops to locate her. Before they find her is about as fretful and anxious as we'll ever see our favorite lawyer.
The Mason mysteries written in the Thirties have a gritty feel. The characters talk in a fast-paced way and the slang and idioms are, of course, more than a little quaint by now. The cops are hard-boiled to the point of self-parody. Gardner's prose has a tough and unsentimental style, but he's not cynical or callous, keeps sex and violence offstage, and the settings and atmosphere are never sleazy. He's tough on the rich and the guardians of the criminal justice system, especially when they aren't giving The Little Guy a break.