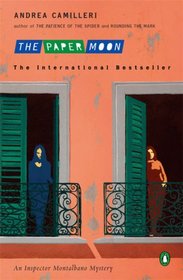 This 2005 mystery is the ninth story starring Inspector Salvo Montlbano. For those of us who have Mediterranean genes, Salvo of Sicily is utterly relatable. He's smart and intuitive and a devil for both work and the nice things in life like good food. But he is also grouchy, short-tempered with a sarcastic bent and sharp tongue. He is shocked and scared that he is not exempt from getting deeper into middle age. Surrounded by colleagues like the numbskull Catarella, he doesn't like drama but creates a lot of it simply by being himself. And the drama of his personal and police life is often pretty funny.
Compared to other books in the saga, this one focuses more on the investigative aspect, leaving little space for Montalbano's personal life. For instance, a weekend visit from his long-time GF Livia takes up about three lines. The case unfolds in a linear way and without any particular twists until the final surprise.
There are many laughs in the story but there are harsh aspects as well. It is a murky story of drugs and sexual transgressions featuring incest, adultery, impotence, a coerced abortion and a sexual assault committed by the police. Some scenes are not for the faint-hearted.
This is worth reading mainly because Salvo Montalbano finds himself dealing with two astute women. He will need all his self-control and wisdom as he negotiates his way between dangerous Michela the Fury and Elena the Cheetah, who tries to charm him with innocence and spontaneity.