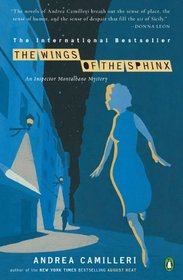 Set in Sicily, this 2006 mystery begins in a tragic way when the nude body of a young woman is found in a landfill. She has traces of gold leaf on her body and the tattoo of a sphinx moth on her left shoulder. Montalbano manages to follow the trail that will involve three other women with the same moth tattoo. He will discover the culprit and the reasons for the murder even though his investigation is always at risk of being hindered by influencers at the top who are corrupted by greed, fear, or the will to power.
The comic relief subplot concerns Mr. Picarella, a man who probably has staged his own kidnapping but whose wife insists the police are not taking the case seriously enough. Montalbano's subordinates, Fazio and Augello, are skeptical because no ransom demand has been received. They are vindicated when a rich guy produces a photo of Picarella partying in a nightclub in Havana. Mrs. Picarella later curtly rejects this evidence and gets Montalbano in dutch with his pompous superior Bonetti-Alderighi. The scene of them pressing each other's buttons is hilarious.
The main attraction of this one is, in fact, various confrontations and interrogation scenes that are both realistic and funny. Other strong points are the lush evocation of Sicily, the realistic examination of the sin of treating people like things, and the short chapters driven by brisk rhythm and tempo. With scenes seamlessly woven together, the action is so easy to take in that the book feels shorter than it really is.
As usual, the star is the hero Montalbano, an ordinary middle-aged guy aging ungracefully, subject to dark moods and flying off the handle not to mention poorly managing his long-distance relationship with his GF Livia. The supporting cast includes the pragmatic and meticulous Fazio, the compliant yet daring Augello, and the strong-willed Livia. A brilliant comic creation is the naive and sincere character of Officer Catarella who maddens Montalbano by muddling messages and mangling people's names and telephone numbers. Hapless Cat is up there with Poirot's Hastings as the unintentionally comical sidekick.
Some scenes are funny, such as when Montalbano pretends to be an anti-mafia investigator in an amazing two-chapter interrogation. The only cautions are that the reveal feels rushed, and the savvy reader will see where the story is heading. But we don't read Montalbano novels for the story or the reveal but for Camilleri's mastery in narrating a story with perfect seams and creating an atmosphere and characters in a world so plausibly realized.