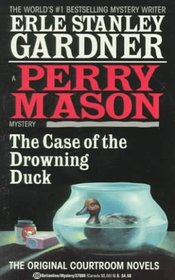 In early 1942 a landowner near Palm Springs, John L. Witherspoon, consults lawyer Perry Mason on a family matter. He tells Mason that his daughter Lois is about to marry Marvin Adams, who is finishing up his college major in chemistry. But Marvin does not know who he is in the sense that his mother gave him a far-fetched story about his origins.
The reality, as Witherspoon has found out, is that Marv's father was executed for the murder of a business associate in 1924. Proud of his family name, Witherspoon detests the idea of killer genes polluting his family line. He hires Mason to investigate the old case see if Marvin's father was in fact guilty.
Mason goes over the trial transcript and deplores the fact the defense attorney assumed his client was guilty. But as Mason sics his PI Paul Drake on the trial of the witnesses who may or may still be among the quick, a blackmailer appears and threatens the happiness of the Witherspoons and the future of Marvin Adams.
The blackmailer is done to death with a homemade blend of gasses. This points the finger at chem major Marvin – whose duck is found at the scene, according to a police officer, drowning in a fish bowl. Another murder carried out in the same way occurs in Witherspoon's house. Mason does much of the PI legwork on his own; he is shamelessly manipulative when interviewing people to get them to talk. The courtroom scene is comparatively short, with a down-to-earth judge unlike any other stuffy judges in Mason mysteries.
The story is intricate with a strong subplot involving a Hollywood scandal sheet that engages in extortion and blackmail by using corrupt PI's to collect dirt and threatening to release damaging information on victims shy of publicity. I especially like the ones written during WWII as classic puzzles well-worth reading: The Case of the Empty Tin, The Case of the Buried Clock, The Case of the Drowsy Mosquito, The Case of the Crooked Candle, and The Case of the Black-Eyed Blonde.