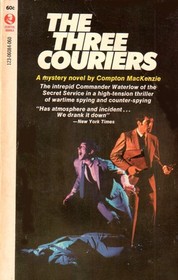 I was lucky enough to have fall into my lap the 1929 spy mystery The Three Couriers by Compton Mackenzie. A prolific writer before and after his work in the secret world during the Great War, Mackenzie portrayed spying not so much as a noble clandestine fight against the Germans and Turks but as a running contest against His Majesty's army and navy authorities and embassy and consulate employees that put the "dip" in "diplomat."
Stationed against his will in Greece, our hero, the unfortunate Waterlow, has to put up with endless French machinations and the never-ending nincompooperies of his own agents, both British and Greek. When he finally succeeds in counter-espionage, his masters and betters utterly ignore the vital intercepted message. "This is a Charlie Chaplin war" he mutters as he bravely moves on to the next fiasco.
In The Man Who Was Thursday (1908), Chesterton makes a case for the futility of espionage, an ironic theme Somerset Maugham was to exploit in the Ashenden stories. But it could be that Mackenzie was the first to write a spy story as a black comedy of errors. The Three Couriers does not have much plot. However, the incidents and set pieces are hilarious as the hapless spies move in on the couriers. The characters are Gogolian grotesques. One wonders if he involuntarily stored these outrageous impressions in his head and wrote to get shut of them.