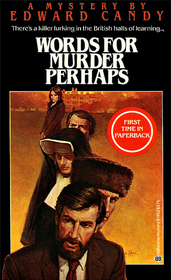 This 1971 mystery stars a teacher of English literature, with the backdrop of evening classes in adult education. The realistic setting sounds anything but glamorous but this is in fact an enjoyable read.
Our hero Gregory "Rob" Roberts has a past. His wife ran off with his best friend, a poet and scholar. At the time, poor Rob made an attempt on his own life and spent a couple months in a rest home.
At the start of this story, stone-cold Audrey, Rob's ex-wife, receives in the mail an anonymous note that quotes a poetic elegy. Since Rob is a literary guy, she assumes he sent it, to mock her over the disappearance of the best friend-hubby. She reports the disappearance to the authorities and kindly mentions her literary ex-husband's note. Sure enough, Rob is questioned by the police, refreshingly characterized not as ominous bullies but as serious professionals getting on with the job.
But to add to Rob's troubles, a famous professor of Egyptology is poisoned after his lecture at the school. Another poetic elegy is found. And then two more murders occur, both with poetic elegies. The series hero Superintendent Burnivel and his assistant Hunt get on with the job.
Red herrings abound in this relatively short novel. We meet the tried and true devices such as the seemingly obvious culprit, the obnoxious colleague, the budding romance, and the scam, all of which provide motives for murder. We also have a mystery author referring by name to Wilkie Collins, Agatha Christie, Michael Innes, and Michael Gilbert, which will tickle us hardcore mystery fanciers.
I recommend this one. Given the mundane setting and believable grown-ups, it feels like P.D. James-lite. The language settles down to highly literate and readable after starting off a bit superior and superficial.
Edward Candy was the pseudonym of Barbara Alison Neville (1925-1993). She was born in London and educated in Hampstead and University College, and later earned a medical degree. She practiced medicine and had a family of five children while writing about a dozen books, three of which are medical mysteries, besides this one, Which Doctor and Bones of Contention. All are well worth reading.