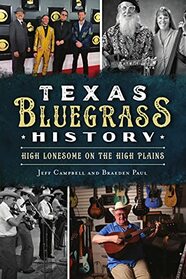 by Jeff Campbell and Braeden Paul
This book is a different type of history of Texas Bluegrass Music. Individuals wrote portions of the book about a particular person or band, and the authors combined it into a book. A unique thing about this book is that many photos and newspaper clippings accompany the text. One author, Jeff Campbell, is a historic preservation professional. He aims to preserve the history of the critical figures of bluegrass music in Texas.
Although Bill Monroe invented the bluegrass genre, he had help along the way. The first man outlined is Howdy Forrester, the first to play double-stops with Bill Monroe.
The Mayfield brothers (Herbert, Smokey, and Edd) heard Bill and Charlie Monroe on the radio while they lived in Dimmitt, TX. Radio was the avenue for music, and the Grand Ole Opry played nationwide. The Mayfields were a musical family, from father William (fiddle), mother Penelope (piano and guitar), and all eight children.
After WW II, Herb, Smokey, and Edd started a band replicating the Bill Monroe sound. They also featured Earl Scruggs, Lester Flatt, and Chubby Wise. Edd met Bill Myrick, a musician with Bill Monroe, and they formed a band — Bill Myrick and the Mayfield Brothers.
When Bill Monroe's band came to Texas, he had the Mayfield band open for his group. Soon after that, Bill Monroe offered Edd a place in his band. Edd worked for him three times. Unfortunately, however, Edd died of leukemia in 1958 at 32.
The rest of the First Generation of Texas Bluegrass Musicians were:* Tex Logan — The Fiddling Electrical Engineer with a Ph.D. He wrote, "Christmas Time's a Comin."
* Tom Uhr — Part of the family's band, he started writing songs at nine. The family's heroes were Bob Wills and his band.
The Second Generation emerged as part of the American Folk Revival of the 1960s.* Tom Uhr formed the folk group, the Shady Grove Ramblers, who were busy from the 1960s – 2010s. However, he continued writing music and creating albums.* The House Brothers and the Canaan Valley Boys formed a gospel music group with a bluegrass orientation. Eventually, they became more secular and renamed themselves – the House Brothers until the 1990s.*Southwest Bluegrass Club — Tom Uhr and some bluegrass friends formed this in Hurst, TX. Their goal was to keep Bluegrass alive through scholarships, training sessions, and festivals.* Holly Bond and the Bluegrass Texans — By 1968, this band began recording, and in 1969, they won The Original Amateur Hour. The band was active for 35 years.* Johnnie Martin and the Bluegrass Ramblers of Texas — Martin gathered a band, bought a bus and started performing around Beaumont and that region. They produced some albums, and the group disbanded due to Johnnie's declining health.* Russell Moore – One of Martin's members who struck out on his own, Russell formed the Southern Connection and then IIIrd Tyme Out. They won IBMA awards for the vocal group for six years, and Russell won vocalist of the year for six years.
In the 1970s,  '80s, & '90s — Bluegrass exploded in Texas, and South Plains College started a bluegrass music degree (associate). They also created the Central Texas Bluegrass Association in Austin. This book recounts how the music department developed. Tom T. Hall, who loved bluegrass music, brought a film crew and created a documentary about the school and program. As a result, Waylon Jenning's son enrolled in the program.
Did You Know?* Steve Martin, a comedian, was born in Waco, TX. He's a bluegrass aficionado and an experienced picker on the banjo. So when his family moved to California, Steve took up the banjo at 17. Eventually, his love for Bluegrass resulted in him establishing the Steve Martin Prize for Excellence in Banjo and Bluegrass. Winners have gone on to significant careers in Bluegrass.
Honorary Texans: This chapter recounts the influence of Alan Munde (from Norman, OK) and Peter Rowan (from Wayland, Mass), two legends in Bluegrass.
A New Millennium — With the film's success, O BROTHER WHERE ART THOU, two new Texas-based groups emerged nationally — Greencards (of Austin, TX) and Cadillac Sky (from Fort Worth, TX). This chapter tells about their emergence and effect on Bluegrass. There are also short stories about Hot Pckin' 57s (formed in 2016 in Austin, TX) and the Family Sowell (now of Tennessee, originally from Hempstead, TX). A unique band mentioned is the Beatlegrass band (combining Beatles and Bluegrass, which emerged into Sgt. Pepper's Lonely Bluegrass Band.
If you are interested in the beginnings of Bluegrass in Texas, this book draws on the knowledge of the movers and shakers of Bluegrass and how they have changed and improved over the generations. Great reading and extensive photos and newspaper clippings.