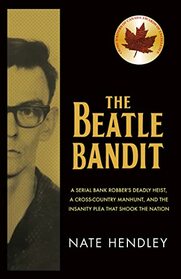 The real strength of this book is the author's telling this story in the light of Canada in the 1960s. Twenty-four-year-old Matthew Kerry Smith donned a Beatle wig and walked into a  North York, Ontario, bank during the Beatle craze. In a day when few Canadians owned a gun, Smith walked into the bank with a semi-automatic rifle. He had painted the end of the barrel pink and cut a hole in a guitar case, allowing the pink barrel to protrude. Anyone noticing the strange young man would think it was a joke.
However, the outcome was no joking matter. A retired military sergeant, Jack Blanc, grabbed a gun (from a bank officer)* and started shooting. Blanc didn't know that there were only four bullets in the gun. Blanc was a sitting duck when Smith opened fire, trying to escape.
Then, the author steps back and describes Smith's life before that disastrous day.  Smith was the son of a successful businessman and a mentally-ill mother. She was later diagnosed as a schizophrenic. Because of the erratic life in the family, the couple divorced, and Mr. Smith took the kids. Young Matt was terrified of being mentally ill. It colored everything about his life. Young Matt jumped from one interest to another until he centered on guns and revolution.
Young Matt was able to keep his life together enough to get into the Canadian Navy (and was soon discharged). Later, he connected with a young First Nations wife, a group of hangers-on, and vague plans for rebellion. Amazingly, Smith was successful in two early bank robberies, and he used the money to buy a house and support his wife and others.
After the third robbery, Smith escaped and became the object of the biggest manhunt in Toronto Police history. Called "the Beatle Bandit," Smith was captured, tried, and sentenced to hang. However, because Smith's mental illness was discussed extensively in court, it created a firestorm of interest. Some wanted to hang Smith, while others thought hanging a mentally ill man was wrong.
Canadians had a national debate about gun control, guns in banks (as defense weapons), the death penalty, and the insanity defense — all because of this case. Eventually, Smith was sent to prison. However, he committed suicide while in prison.
Several reviewers have mentioned that the author wrote this book in a similar vein to Truman Capote's In Cold Blood. Early in the book, the author stated there wasn't a word written that hadn't come from court documents, magazine or newspaper articles, or interviews.
WINNER of the 2022 Brass Knuckles Award for Best Nonfiction Crime Book.
* At that time, Canadian banks kept loaded guns in the bank. However, employees were told not to engage with robbers because the money was ensured. After Smith went to trial and this point was discussed widely, banks decided guns were not helpful.