We got more photos from the Books for Schools donation program, showing us the delivery of the books you so generously donated credits to get for them!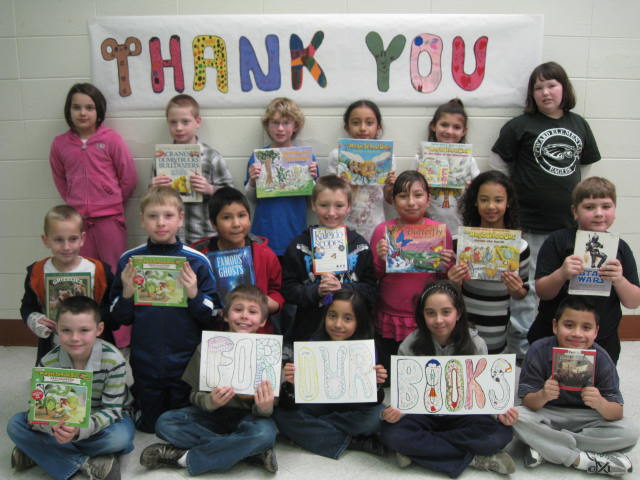 Above, Upward Elementary School says Thank You! See photographs from Cloverdale and NIxyaawii in the Photo Gallery on the site. The kids are really happy with the books!  Some of the books will go into the classrooms and libraries, and some will go home with students to keep.  From the first two rounds, member credit donations to the program supplied over 20,000 books to needy schools! Thanks to all who donated credits for this program.  We'll let the membership know when we're ready for the third round of Books for Schools – stay tuned!  You can read more about Books for Schools here.
The wrapping always works twice…and three times… We are happy to report that members are recycling packaging materials and not just books here!  One member told us, "I wanted to suggest giving a big WELL DONE to all the people who recycle not just their books, but packaging and printing as well. I just mailed a book this morning that is the third PBS journey for the bubblewrap envelope… I would love to see kudos to all the folks who go the extra mile to recycle." Yes, kudos to all of you who create sturdy packaging for your books out of already-used materials!  The planet is happier because of it.
The love of reading brings people together.. We have a PBS marriage that we know of, and many many examples of friendships that started here.  We heard from one group of ladies who became friends through PBS. They got together for the first time last December, and had such a great time they plan to make this an annual event. From left to right, we have Liana T (bukwurm), her mom Leilani R (hiker-Leilani) and Ella S  (sls).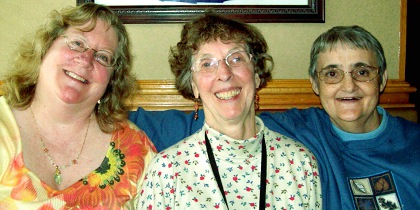 Tags: Books for Schools