'Tis the season….The season of giving and sharing is fast approaching! Whether you will be celebrating Christmas, Chanukah, Kwanzaa, Eid al-Adha, or winter solstice, we applaud your generous spirit and want to help you celebrate. In the spirit of giving, PBS will be giving a service to our members: gift wrapping and shipment of selected PBS Kiosk items directly to the loved-one's home! There will be no additional charge for giftwrap! It's our gift to you.
We think BookMates are perfect presents for every reader, young or old, male or female. All BookMate orders between November 15 and December 15 can be gift-wrapped by the PBS elves and bear a gift card endorsed with your message, for free! Your words will guide us in the selection of the appropriate giftwrap and card.
Use your imagination to gift-up a PBS item–why not a PBS Mug for that co-worker or helpful neighbor? You can fill it with an envelope of flavored coffee or cocoa, candy canes, and a gift certificate for books (credits) at PBS. Or enclose a PBS mousepad with that CD of computer games you are tucking into a stocking. A PBS tote bag filled with goodies for your mother! A PBS keyring for the keys to that new Maserati….well, maybe that's a bit much. But you get the idea. 🙂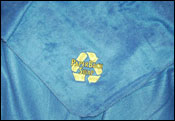 New item–Fleece Blankets They're here! So soft and comfy, in beautiful royal blue with the PBS logo on them. They make great "lap robes" while you sip cocoa and read your latest PBS book. It's not too early to start dropping hints to spouses that you'd like to receive one for Christmas. (Maybe slipped into that PBS tote bag….)
Clearance Sale. They're out of season now—so stock up for summer (yes, it will come again—we promise)! PBS T-shirts were a most-requested item before we opened the store, and we laid in a big supply. The shirts have the PBS logo on the front and an ISBN and barcode on the back, and they have been popular, but we have a lot left! So we are discounting the price to our cost to clear these out of the warehouse to make room for new items. So give us a hand here. Everyone wears T-shirts sometimes, and the XLs make great nightshirts. Order them for your friends, your children and grandchildren, your softball team, and everyone in the office!
Tags: PBS Kiosk