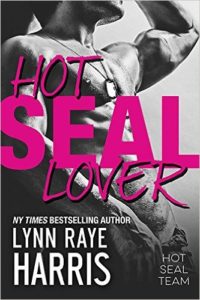 Review by Cynthia F. (
frazerc
)
This is another great read from Lynn Raye Harris. It delivers all the things we expect from her: hot alpha guys, fast-paced action, a hero and heroine laden with 'issues' and a connection between them so strong it can't be denied [although they try, REALLY try], hot sex scenes and a satisfying conclusion. For those who have been following the series we also see many of the characters we have grown to know and love along the way.
I must admit to occasionally wanting to smack the heroine. Her issues led her to a one night stand with the hero and then she left. The hero has his own problems, especially the guilt he feels for not rescuing his sister. Things might have stopped there if there wasn't a revolution…
When the rebels trap a bunch of Americans [including Christina] the hero's team is missioned in to get them out of the war zone. It's a long and dangerous journey and adrenaline is a great prioritizer. Sometimes the truth does set you free…
A great story with a happy ending. What more can one ask?
Can you read this as a stand alone? Yes. Is it better if you read it as part of the series? Yes, it enriches the reading experience if you do. No, you don't have to read them in order but again, it is better if you do.
Hostile Operations Team series
Book 1: Hot Pursuit (Matt & Evie)
Book 2: Hot Mess (Sam & Georgie)
Book 3: Hot Package (Billy & Olivia)
Book 4: Dangerously Hot (Kev & Lucky)
Book 5: Hot Shot (Jack & Gina)
Book 6: Hot Rebel (Nick & Victoria)
Book 7: Hot Ice (Garrett & Grace)
Book 8: Hot & Bothered (Ryan & Emily)
Book 9: Hot SEAL (Dane & Ivy)
Book 10: Hot Protector (Chase & Sophie)
Book 11: Hot SEAL Lover (Remy & Christina)