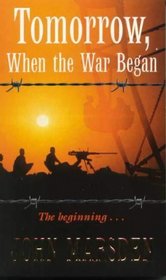 Review by Cyndi J. (
cyndij
)
The Tomorrow series by John Marsden, first published in the 1990s, consists of 7 short novels intended for the upper end of YA readers (i.e., there is discussion of sex and some sex scenes, people get killed rather graphically, and there's some torture).  The actions taken by the teens, and the results, are not completely believable but not totally implausible either. It's written all from the POV of Ellie, in a lengthy diary format, and it's her take on the events that pulls in the reader.  Fair warning, not everyone is going to survive.  This isn't a series where you can dip in and out, it needs to be read start to finish.
TOMORROW WHEN THE WAR BEGAN starts it off with a group of Australian teens on a camping trip. They've bushwhacked their way into a deep, barely accessible canyon called Hell where legend has it a hermit lived decades ago.  At the bottom, it's a pleasant place with plenty of shade and water. Ellie, who organized the trip, and her friends spend a nice week lazing around the campsite. When they come out, their homes are empty and their pets are dead. Where is everyone? Ominous signs lead them to the horrifying truth: during the national holiday, a foreign country has invaded and seemingly conquered Australia, and everyone they know is being held captive as the invading army moves to occupy the country for its own people.  The kids hurriedly head back into Hell before they too are captured.
Ellie and the others are just teens. What can they do? They don't want to be guerilla fighters but they aren't about to turn themselves in either. As it turns out, with a little ingenuity they manage to inflict some significant damage on the invaders but not without cost.
THE DEAD OF NIGHT, the second book, Ellie and the rest explore away from their hideout and come across a group of other resistance fighters. They are so relieved to find adults, but it isn't going to be that easy. Once again they need to strike the enemy by themselves.
A KILLING FROST: Lots of action and heartbreak in this one. Ellie evinces a certain sympathy for the invaders – it doesn't stop her from fighting back – but it's a point of view I could not sympathize with.  Her thought is that the invaders have some justification for their actions because Australia refused to take in more immigrants.  This seems to me more like an opinion the odious Major Harvey would have. Again, she doesn't stop fighting and it's to her credit that she feels bad about the people she's killed. She rightly has concerns over what this will do to her, and her friends, in the long run.
DARKNESS BE MY FRIEND: Ellie and the remaining kids reluctantly return to Wirramurree with a group of guerilla soldiers, intent on sabotaging the military airfield that the invaders have built there. Not a lot of forward motion in this episode.  Once again, Ellie spends a lot of mental anguish on killing the enemy.
BURNING FOR REVENGE: The group decides that safely – safe is relative to be sure – sitting in their refuge isn't what they want to do. A scouting mission turns incredibly dangerous very fast.  It's a roller-coaster of action for almost the entire book.  And they come across something unexpected.
THE NIGHT IS FOR HUNTING: There's more mouths to feed now, and the occupiers are getting closer to finding the hideout.  It can't keep going on this way forever. A lot of interpersonal tension here, and fewer explosions, but still a taut story that moves along the plot.
THE OTHER SIDE OF DAWN concludes the series. The group is asked for just a bit more action as outside forces gather for "D-Day" to take back Australia.  Can they escape with their lives just one more time? There are definitely uncomfortable scenes in this one. I liked how Marsden ended it – the war's over but life is not going to ever be as good as it was.
Tags: Book Reviews, Book Suggestions