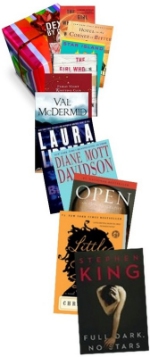 Bestsellers at bargain prices, without the holiday crowds.
We know that every list has its "toughies". Those to whom you've given every year and now you're running dry of ideas…the ones you don't know very well…the ones who have everything. Whether it's your father-in-law (he's all stocked up on grilling accessories) or the mom who carpools your kids (she deserves better than bath salts) or the co-worker who cracks you up in meetings (is he the one who's allergic to chocolate?) you can solve your dilemma at the PBS Market.
You know how much books have meant to you. Sharing the gift of reading is truly sharing of yourself. We have humor, sports, inspirational narratives, books for kids, stocking stuffers and boxed sets and much more…you'll find the perfect present for everyone on your list. The Guide will be adding new categories all the time, so check back often. We'll help you take care of your holiday shopping in a hurry! And don't forget – with Market Madness each book you purchase before December 31st enters you in a random weekly drawing for 5 PBS Credits – the more books you buy, the more chances to win!