Let your fingers do the shopping… Why fuss over what to give?   PBS Gift Certificates are the answer!   We've spruced them up and now you can create your own custom card with a gift code redeemable for 5 or 10 book credits.   You can choose from among the many holiday-themed designs we offer OR upload your own graphic.  Then add your own personalized message, purchase the gift code and email the card, or print the card out to go into the mail.  There is even an option to send an e-Card to a PBS Buddy (so you don't have to know his or her email address to be Santa)!   It's a great way to show the readers in your life that you care – no worries about sizes or colors or do-they-already-have-one…  You can't go wrong with books!

Started as a game, turned into friendship... junie (June E.) writes in to tell us that the Mystery/Thriller Virtual Box swap she participates in is the longest running Virtual box in the club, and all of the participants have become good friends.    "We are planning a get together in June 2010 with some of us flying from all over the Country, possibly in the Smokey Mountains of Tennessee.  However, six of us didn't want to wait, so we all met in Lake Anna, Virginia Oct. 23 thru 25th in a beautiful 5 bedroom house on the lake." Looks like they had a great time!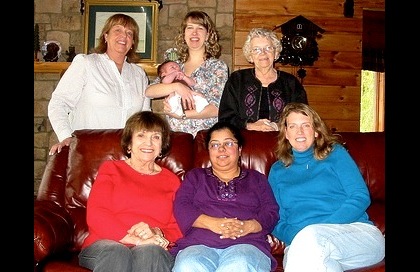 Left to right, Debbie G-(deb3009), Diana M. (booklady4), Rachel P. (Retrogram), June E. (junie), Nita A. (nawatramani), Kay A. (jegka).
We looked and saw that this Virtual Box began way back in May 2008!   If you are interested in playing Games at PBS (or finding out what the heck a Virtual Box is), check out the Games forum. Don't be shy! Experienced Gamers and Games Moderators will help you learn the ropes, and there are topics in the forums that you can read to teach you how things work. Make some friends, get some books, have some fun!

We think you guys are awesome. And so do the schools to whom you all so generously donated your credits, so that we could send them books.  We were astonished by, and really proud of, the response our Books for Schools program got.   You donated enough credits to provide books to NINE schools in need – for some of those schools, these books will actually start their school libraries!  Currently, we're getting the books all shipped and making sure everything goes well with the first nine, and then we will be enrolling more schools from the long list of needy schools we've compiled from your suggestions.  You can read more about Books for Schools here.

A letter from one of the teachers in NC says it all: I want to thank all of the PBS members from the bottom of my heart for the book donations! With your donation, teachers will have many books in their classrooms that students can have easy access to. Our students are enthusiastic and excited about learning and reading. Your donation — your thoughtfulness — is helping to grow these kids into lifelong readers and learners.  You are readers, so you know the power of books.  Thank you for giving that power to our students! – Jayne Jennings, AIG Specialist, Henderson County Schools.