Books for Schools Update: Our campaign this year was ambitious…30,000 books for 30 schools, and thanks to you we got there!  We will soon be turning those credits into real books for the students – they are anxiously awaiting their boxes filled with new stories and adventures.  The schools are thrilled to be receiving these right before the winter holiday so that they can send home the gift of reading !  Read the warm thank you notes from the schools so grateful for your help.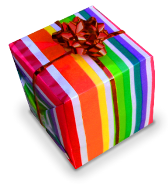 Gift Buying Guide. The Guide will help you find the perfect presents in the Market for everyone on your list – at bargain prices.   And remember, Market Madness is still going on – every Friday until December 31st, we are doing a random drawing for 5 free book credits.  Each book you purchase from the PBS Market enters you in the drawing – so the more books you buy, the better your chances of winning!  Donna, one of our lucky winners from last week, said "Oh WOW!  I read about the contest but never ever expected to win…I LOVE this thing!  It is like having a bookstore I can go to in the middle of the night, in my PJ's, and you tell me before I even go that a book I want is there." Remember that ordering multiple books in a shipment saves on shipping!
All abooooard! Members are still able to sign up for the Cruise to the Bahamas for PBS Members, February 4 – 9, 2012.  The cruise leaves from Jacksonville, Florida.  PBS members and family/friends are welcome!  Register for the cruise on the webpage the travel agency has set up.  For information from a Cruise Committee Tour Guide, send an email to pbscruise@hotmail.com or post in the Discussion Forum topic.  Note: Please don't send in Feedback, as PaperBackSwap is not coordinating this event.
One Size Fits All! PBS Gift Certificates can be personalized with your own messages (on cover and inside the card) and image, and you can print them out and fold them into a card to gift in person or by snail mail, or email them as e-cards to the lucky recipients.  Available in 5 or 10 Book Credit denominations, from the Gift Certificates link under "Kiosk" at the top of the site.  We know how much people appreciate these – they tell us all the time!


In Memoriam: As many of you know, we recently lost two pillars of the PBS community – Sherry N (Royaltech) and Tracey M (sexypineapple).  Both of them contributed a great deal to the club, volunteering their time and giving generously of themselves to other members. They exemplified the spirit of the PaperBackSwap community, and they will be terribly missed! Our thanks to everyone who donated to get new books for their respective elementary schools, where each of them first developed a lifelong love of reading, and please keep their families in your thoughts and prayers during this difficult time.