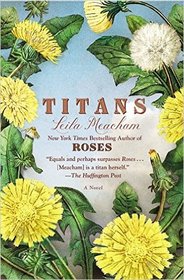 Review by Mirah W. (
mwelday
)
Meacham has created a literary enjoyment with Titans!  A novel about how family secrets can bring both heartache and redemption, Titans is an emotional and bittersweet journey.
Texas in the early 1900s is on the edge of discovery.  Oil has been found and methods of locating deposits and extracting it from the land are being developed.  Some homes are getting telephones and there is talk of a motorized conveyance replacing horses for travel.  In the Dallas/Ft Worth area, three families will come together as long-held family secrets are slowly exposed.
The Gordons are building an empire with their cattle ranch. Their adopted daughter Samantha is their joy and she has given up her dreams of an advanced education to be more involved with the family ranch. The Holloways have a wheat farm and their son Nathan has a deep connection to the land. Nathan is looking forward to the day he can run the farm and has a close relationship with his father.  Trevor Waverling is a wealthy manufacturing businessman who is no friend to either family, but he is about to meet Nathan and set everyone on a course of change.
Meacham weaves together the lives of these three families with a deft hand and the way the plot comes full circle offers a satisfying and thorough conclusion. Filled with complicated family histories and challenging family relationships, Titans delivers on several levels and I give it 5 stars.  The plot is well thought out and developed, the characters are not predictable but they are relatable, and the way the story comes together is seamless.