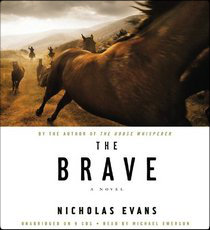 Review by Mirah Welday (
mwelday
)
I have enjoyed several novels by Nicholas Evans, most notably The Loop and The Smoke Jumper.  I like that Evans' books have a particular rawness to them.  It's almost like I should feel bad for intruding on the characters' stories but it's too interesting to be ignored.
I recently listened to The Brave audio book (read by Michael Emerson from tv's Person of Interest).  Growing up in England in the 1960s, Tom Bedford is enamored with tv shows featuring Cowboys and Indians.  He feels the cowboys embody the integrity and bravery real men should exhibit.  Tom has a strained relationship with his older parents but is very close with his sister.  He ends up moving to the US as a boy but family troubles and struggles continue to make his life uncertain and there are secrets he doesn't know or completely understand.  Fast forward to the present day, Tom is divorced and his relationship with his son is non-existent.  When a tragedy faces his son, Tom is forced to face the demons of his past he has tried to deal with and bury all on his own.
Throughout the novel I was cheering for Tom but I was also frustrated with him.  I was gasping out loud when certain revelations were made. I was driving and, without even realizing it, I was leaning forward and clenching the steering wheel.  The secrets in Tom's childhood result in him keeping secrets in his adulthood and the vicious cycle of lies and secrets must be broken if there is to be healing and acceptance with his son. But readers don't know if Tom is willing to surrender those lies and secrets and open up to those he loves.  And we don't know whether the people in Tom's life are going to be willing to offer forgiveness and love as a result of knowing the truth.
I really enjoyed listening to The Brave.  It has since been passed along to another PBS member and I hope it continues to make the rounds. To be honest, I think some of the reason I enjoyed the book is that like Tom, I enjoy westerns and the simpler times they represent.  If you like books with secrets, mysterious histories and love played out with complex characters, I think you should give The Brave a chance.