We asked you to tell us a story and we were overwhelmed by the amazing responses we received!
PBS members are the most creative, witty and wonderful folks!
The Judges have decided that the judges could not decide on just 9 winners, so here are the Winners of one credit each, in no particular order:
In the Science Fiction category:
"Here's your new red shirt, Ensign!"
. . . . .
"He's dead, Jim."
–

Lynda C.

(
Readnmachine
)
In the Best News Ever category:
Cancer conquered. Will read books for many more years! – Brenda K. (
IFly182H
)
In the Best Use of Punctuation category:
Springtime, rhymes; Summertime, textbooks; Autumntide, manuals; Wintertime, prescriptions: Reading!
 – Lillie C.

(el-jay

)
In the Non-Fiction category:
 PBS has enriched my life beyond my wildest dreams! – Kathy H. (

Nellie

)
In the Best Laid Plans category:
I joined to downsize. THAT didn't work out well! –

Cari (

ladycari

)
In the We Love New Readers category:
I read to her; now she reads to me! – Cynthia P. (
tempest11
)
In the Phew! category:
Went away. Realized I forgot my book. Came back.

  –

Ryan F. (

thehappyfew

)
In the Deeply Profound category:
Birth. Death. Life is lived fully in the middle. – Alice T.
In the We Totally Agree category:
A big dream brought readers together; created a family. – Rhonda

(pinkcypress

)
In our Proud Marine Mom category:
PBS kept Mom occupied while baby transformed into Marine. – Beth D. (
ponykeg
)
In the Almost Haiku category:
Truly love
to sit and read…
sitting not necessary.
In the We Can All Relate category:
I collect more books than I can ever read. – Sari N. (
Sarijj
)
In the This Lifts Our Hearts category:
PBS kept us entertained during son's Transplant last year. – Jackie G. (
jackie13
)
And in the She Can't Count but we Love the Song category:
Happy natal day to you!




Happy natal day to you!!




Happy natal day, dear PBS who has nurtured my love of books and brought me new BFFs!!!




Happy natal day to you!!!!
Our Grand Prize Winner is
:
Went to my mailbox to find a new world – Deb R.

Deb, we have created today's Quote of the Day using your story. It is appearing on the PBS Home Page. Thank you very much!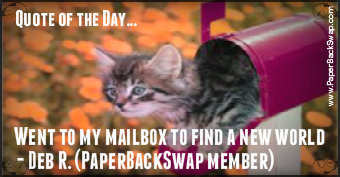 Congratulations to all of our winners and thank you to everyone who participated!
Our Members make PaperBackSwap the Best Book Swapping Site in the World!
Tags: Contests, Members, Milestones