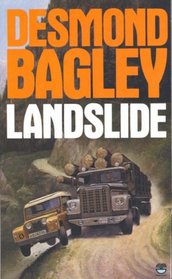 A car accident in 1957 erased Bob Boyd's memory of anything personal. Luckily, he can remember his field of geology. So in the next 10 years he is able to make a living, working temp consultant jobs in British Columbia. That way, he finances solo trips into the Northwest Territory to go prospecting. Living on little money with few possessions has helped him forge an identity that readers like in an action hero: resourceful, disciplined, and confident.
In 1967, he returns to the little town of Fort Farrell, in northeastern British Columbia. It is located near the scene of the crash that caused his memory loss. Fort Farrell is run by the Matterson Corporation. The father Bull provides guidance that can't be ignored and his heir Howard manages the day to day operations with his hard-souled accountant. They hire our hero Boyd to survey a valley soon to be inundated by a new dam. The Matterson Corporation wants to make sure they are not covering any opportunities for mineral extraction.
The more Boyd finds out about the Matterson father and son, the less he likes them. He doesn't cotton to the unjust way they run Fort Farrell. And he is troubled by their ruthless obliterating of the memory of their business partner John Trinavant and his family who were killed in the crash that cost Boyd his memory.
Readers that like the age-old story in which a stranger comes to town and shakes things up in the name of fairness and keeping faith with the past will find much to like as Boyd gives a swift kick or two to the shaky foundations of the Matterson empire. Boyd strikes up an alliance with the comely Claire Trinavant, niece of nearly forgotten John. Rich, attractive, kind and liking the outdoor life – what more could a hero in an action novel require of a romantic partner?
Don't let the iffy plot device of amnesia put you off. I assure the prospective reader that the amnesia really works persuasively, unlike a coma, a bumbling police chief or an Evil Twin. The plot twists unfold at a brisk pace. The action is gripping, including a man-made natural disaster for a climax. There are rocking surprises, not surprising when the hero is a geologist – yuk yuk. This doesn't seem to be the best-known of Bagley's many novels but I think it's well-worth reading. And how often do we read a thriller set in remote Canada?
Desmond Bagley was only 59 when he passed away in 1983. Trained as a journalist, his lucid writing and meticulous research made his action novels best-sellers in the twenty years after 1963. Readers that like Hammond Innes, Len Deighton, Frederick Forsyth or Jack Higgins will like Bagley.