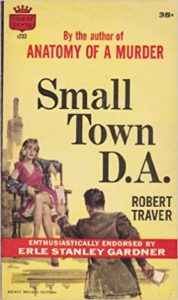 Michigan's Upper Peninsula is known as God's country, a great place for hunting, fishing, snowshoeing, skiing, and canoeing. Besides dairy-farming, its industries were mainly of the extractive kind – lumbering and mining. In this 1954 memoir of Traver's 14 years as a D.A. in Marquette County, he describes offenders of descents such as Finnish, Scandinavian, Italian, Irish, Cornish, with the occasional American Indian tossed in. The crime to be prosecuted was often drunk driving, as we would expect. But there were also cases of rape and murder. For extra thrills, thankfully rare, there were kidnapping and even an adultery case.
Each chapter of the book is an anecdote about a specific case and numerous stories about a certain crime. His anecdotes of the brutal crimes that happen in remote places will prime us to roll our eyes the next time we hear a somebody say, "Things like that just don't happen here," or see the headline, "Girl's Violent End has Village in Shock." The tone is generally upbeat, benevolent and humorous. Traver is inconsistent in that in the preface he believes the human nature is basically good and later he says we have to take human nature as we find it. But his stories illustrate his belief that human beings naturally resilient and enduring. In other words, we're tough, tougher than we give ourselves credit for.
The real name of the author was John D. Voelker. He was born in 1903 in Ishepeming, in Michigan's Upper Peninsula. He went to law school at the University of Michigan. He returned to his home region to lawyer, becoming a D.A. in Marquette Country. He wrote this memoir in 1954 and says in the preface that he did not aspire to higher political office or judgeships. People change their minds and he didn't say no when Gov. G. Mennen Williams appointed him to the Michigan Supreme Court. During this stint, he somehow found the time to write, under the pen name above, the courtroom novel Anatomy of a Murder, which became a monster best-seller and hit movie starring James Stewart, Ben Gazzara, Lee Remick, with the soundtrack composed by Billy Strayhorn and Duke Ellington.