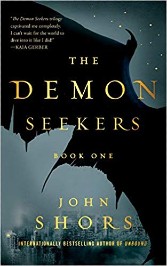 Review by Mirah W. (
mwelday
)
One of my favorite authors has made the leap into young adult fiction and I am thrilled! John Shors recently released his complete The Demon Seekers series and I quickly devoured Book One. I love that he released all three books just a few weeks apart so excited readers could quickly continue reading the series! (You're the best, John!)
As a fan of both dystopian fiction and John Shors, this series immediately appealed to me. I read Book One in less than one week, even waking up a little earlier so I could read a couple of chapters before work! Set in 2171, hostile aliens have been on Earth for a century. Earth was their prison and they have practically wiped humans from the planet, hunting them relentlessly and turning Earth into a desolate place for those humans left. We are introduced immediately to Tasia in Cambodia, one of the few areas designated as a hidden stronghold for the few humans that remain on Earth. Tasia is seventeen and has grown up in the jungle of Cambodia and is comfortable there, but she is soon thrown into a journey of discovery and destiny when she begins the search for life-saving medicine for her brother.
I thought the characters were interesting and multi-faceted. Tasia is seventeen and head strong, she wants to be strong for her family and is looking to really make a difference in the fight against the aliens. In her quest to find medicine for her brother, she joins Draven, Raef, Aki and Jerico to travel to different strongholds to find what she needs. Each character fills a different need in the group and offer a different emotional element to the story.  Like all of John's previous novels I have read, the environment practically becomes a character of its own through very detailed descriptions and level of importance to the overall storyline. The descriptions are vivid, and I could see the colors and destruction in my mind as I was reading. Due to this level of description, I think this series would be amazing on the screen.
There are current socioeconomic and political themes throughout, but they are not distracting from the story; instead these themes enhance the story and plight of the characters. I believe this would be a great series for parents and young adults to read together to discuss the plot, the characters' decisions and how that could relate to current events. The different types of people groups in the novel (guardians, seekers, hiders) could easily be given parallels in today's world.
The mystery of the aliens/demons and how they came to be on earth and connection to humans is still unfolding by the end of the book and I am hooked. I thoroughly enjoyed The Demon Seekers: Book One and have given it 5 stars (and I have already ordered The Demon Seekers: Book Two and The Demon Seekers: Book Three).  If you enjoy science fiction, fantasy, and dystopian fiction, I think you would enjoy The Demon Seekers.