On Sunday, February 5th, we had a full day at sea and a full day of PBS events
10AM: Our PBS Volunteers and Team Get-Together. This was the first time many of the Tour Guides and Team Members had gotten a chance to spend time together face-to-face.
Photo by Guy S.
11AM: PBS Jeopardy!
Our Emcee: Who is Mary (kilchurn)?
Our Contestants: Who are Judy, Lori and Gail?
Our PBS Team Contestant "Phone a Friend" Crew: Who are Josh, Len and Zack?
(Neither folded hands nor flamingos were requirements)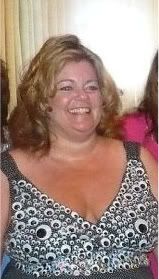 Our Exultant and very PBS Savvy Winner: Who is Lori S. (Ethelsmom)?
Lori is now our newest PBS Volunteer Tour Guide! We are so very lucky to have her!
Here are the PBS Jeopardy Answers. How many can you get right?
General Trivia
100. The number of candles on the PBS Birthday Cake in September 2011.
200. Where ALL of your transaction details are stored.
300. Your source for the latest and greatest PBS news.
400. PBS calls this state home.
500. The name of the program which featured 27 schools with a total donation of over 25,000 books.
Features
100. 200, Gold Key 300.
200. To add books to your Book's I've Read List, do this.
300. Start your day here for a thought provoking quote and picture.
400. DAILY DOUBLE. Where our live feed of site activity is shown, including, books being swapped and posted, member registrations, etc.  It updates every 15 seconds.
500. Magazines, Comic Books, Coloring Books, Calendars, Blank Journals
Acronyms & Icons
100. The entity used to get our books to and from other members.
200. MoM
300. How books are queued at PBS.
400. TGL
500. This is the unique number that identifies books in the PBS system (abbreviated ISBN).
Books
100.*No Missing, Torn, Loose or Chewed Pages. *Front and Back cover must present. *No Writing, Highlighting or Underlining. *Binding Intact. *No water damage, stains or mold.
200. Paperback, Hardcover, Audio CD, Audio Cassette, Large Print Only
300. Author. Title. ISBN. Binding Type.
400. 5 Million +
100. Where you can find helpful members to assist you.
200. Subscribable feature that lets you swap books for books with other members without credits.
300. See the most posted book, the most Wish Listed book, the most Requested book, the member who has the most referrals and the member who has swapped the most books.
400. Find Book Reviews, Author Interviews, Book Grab Giveaways, Member Musings and the Vostromoscope.
500. You can print a customized bookmark with the PBS logo here.
Miscellaneous
100. Yellow and Blue
200. The names of the PBS Sister Sites.
300. This feature allows members with public profiles to communicate with their PBS friends.
400. New Member Questions. Lounge A. Lounge B. Over 45 and picking up speed. Games
500. How to Swap Books, Browse the Help Docs, Ask the Librarian, Live Help
Final Jeopardy
Who is the author with the most posted books in the history of PBS?
The Questions
Tune in on Thursday!