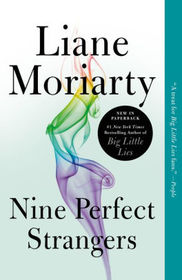 Review by: Mirah W (
mwelday
)
Liane Moriarty is one of my favorite contemporary authors. I have read all of her books and look forward to each new story she has to tell.  Her latest, Nine Perfect Strangers, was quite a read.
Nine people make their way to spa resort for a 10-day retreat that is supposed to change their lives.  Each person is coming to Tranquillum House for different reasons, including escape, grief, depression, marriage troubles.  Waiting for them at Tranquillum House is a secretive staff led by mysterious and charismatic Masha.
What begins as an interesting mystery and captivating read in the first half of the book goes off the rails in the second half and just can't seem to get back on track.  In the first half, Moriarty slowly introduces the characters and why they made the decision to go to Tranquillum House. Like peeling back an onion, layers and layers of character development take place and then the plot seems to become far-fetched and it was difficult for me stay engaged.  I could see where the divergence from what was expected could appeal to some readers, but I thought it was too drastic of a shift.
I am conflicted about giving this book a rating.  It started out so great, full of interesting characters and I wanted to know more about them.  I felt like this was going to be another 5 star book by Moriarty.  And then I felt like the twist took things in a weird direction that didn't really seem to fit with the first half of the book.  I would say if a reader enjoys off-the-wall plots, this might be one to read.  If a reader likes more streamlined plots, I would recommend Three Wishes (you can see my review here).
Tags: Book Reviews, Book Suggestions, Fiction