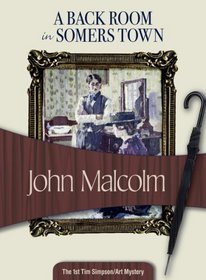 This mystery – the first book in the Tim Simpson series – was published in 1984. Simpson starred in 15 books, with the last one being Rogues' Gallery, in 2005, when the author apparently retired.
In this debut novel, Simpson is called in by an art dealer, Willie Morton, to look at paintings by Walter Richard Sickert and follower Mary Godwin. Amazed at such unusual finds, Tim and Tate art expert Sue are later attacked by an unknown assailant at the scene of Willie's death by stabbing. The paintings have vanished. As the case goes cold for the cops, Simpson is sent to Sao Paulo, Brazil for some unfamiliar atmosphere, where 40 years ago (put on your making-allowances caps) women seemed to enjoy menfolk being grunting male chauvinist porkers.
The hero Tim Simpson himself is an ex-rugby player. Though not afraid of a tussle, he is diplomatic and tactful enough to work as a marketing and management consultant for a London merchant bank. He gets on well with his manager, the upper crust Jeremy White. They share an interest in arts and antiques. For the sake of building a rep for elegance and panache, Jeremy persuades Tim to turn his hobby into a work skill and become the full-time in-house art investment specialist. It tickles Jeremy to be catering to select clients because it will drive his fogey relatives, who run a bigger White's bank, crazy. Jeremy is an appealing character: he's a spoiled rich guy but fun-loving and generous, a welcome change to the stereotypical rich guys we often suffer in both fiction and the news.
The author, whose real name is John Andrews, is one of those Renaissance Englishman. An expatriate kid in South America, he learned Spanish and benefited by living in another culture. An expert on art, he wrote many books and articles and edited a magazine about antique collecting. He also worked as an engineer and business consultant. He brings this diverse knowledge and experience to his writing.
I recommend this one. Though short, the plotting is elaborate without being confusing and the settings of snowy London and tropical Sao Paulo provide a diverting contrast for us shut-ins. The writer then inserts seamlessly material about artists and their work, art collecting and collectors, banking, and business. The intelligent and smooth writing is about what we expect from a cultured English writer, comprehensible and unpretentious.