Today we're trying something a little different, we have author Mindy Friddle stopping by to talk about family secrets as mentioned in her newest book Secret Keepers.
At the end of the day we'll have a random drawing including all of those who comment on the post.  Winner will receive a signed copy of Secret Keepers! Can't think of something to comment about? Just tell us if you have any other favorite Novels that take place in the South like Secret Keepers or share some of your favorite family secrets!  (Congratulations to Courtney G., court4short -Enjoy your signed copy of Secret Keepers!)

Mindy's Bio: Mindy Friddle's first novel, The Garden Angel (St. Martin's Press/Picador) was selected for Barnes and Noble's Discover Great New Writers program in 2004, and was a National Public Radio (NPR) Morning Edition summer reading pick. Secret Keepers, her second novel, was published by St. Martin's Press in May. She lives, writes, and gardens in Greenville, South Carolina. For more on her books, visit her website www.mindyfriddle.com and her blog, Novel Thoughts: Musings on Writing, Reading and the Earth.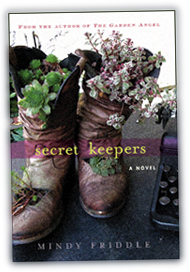 Since I came across the letter from J. Edgar Hoover in my grandmother's trunk, I've been thinking a lot about family secrets.

My grandmother died two years ago.She was 93, and she left behind a house and an attic full of stuff. I was helping my mother go through it all when we came across the trunk. Actually, it was my great-grandmother's trunk, which she'd brought along in 1950 when she moved in with my grandparents from North Carolina to Greenville, SC. My great-grandmother came from Franklin, NC, a little town up in the mountains, and it must have been hard for her to leave the place she'd grown up in, but, alas, widowed and the mother of an only child, she came down to Greenville reluctantly, dutifully, bringing along her trunk. Opening it just those few weeks ago felt like peering into a time capsule– my great-grandmother's hairpins and sewing kit, dried flowers, a bible, newspaper clipping and lots and lots of photographs. Unlabeled, most of them: photos of farmers and fiddlers, of a woman smoking a pipe holding a goat, a baptism at the river, of brides and grave stones. Postcards too. From Atlantic City in 1910. My dear, it is beautiful here. There are so many people! And telegraphs. Sorry to inform you. STOP. Your son died in battle. Stop.
And letters. THE letter. From J. Edgar Hoover to the Sheriff of Macon County. About a missing person? The FBI…"Oh, that's about Aunt Lily," my mother said. "You know…your great-grandmother's sister. She disappeared…and they never found her." Huh?
My mother was only 13 when her Great-aunt Lily disappeared. My grandmother never talked about it much. And my great-grandmother and her people didn't much discuss it, either. She just worked quietly, diligently, writing to the sheriff of her hometown for years, begging him to keep trying to find her sister. Her only sister. Who had married late in life, married a man who came through town–no one knew his people, no one knew anything much about him– but she–Lily– left with him, heading to California. "I reckon they eloped," a relative tells me. "She just ran off with him." A preacher's daughter, a spinster? No children. With a salesman? She lost her head–and other things maybe, too– headed off to California, where her letters were regular for months, then stopped, and then…she disappeared. Never a trace. No funeral. The husband disappeared, too. He killed her, is what my great-grandmother suspected. No one said it outright, but they knew, they knew.

A few weeks ago, I was at a writers' conference telling the story about my finding the letter from Hoover in my great-grandmother's trunk. The table full of writers dropped silverware, jaws, conversation. I had given them the barest dry details, but it was enough to ignite a whole bonfire of possibilities. She left because of sex. No, she was in love. He was a serial killer.(Cold Case fans.) No, SHE killed him. (A Rose for Emily, anyone?). Or maybe he left her and she was just too ashamed to come back home and fled to Mexico? Or …swam out in the choppy Pacific and…

Family secrets… the perfect breeding ground for novels.
# # #
—
SECRET KEEPERS:  strong storytelling, comic touches, prickly family dynamics, and the magical power of nature.
St. Martin's Press
Read an excerpt at www.mindyfriddle.com
On Sale: 4/27/2009
ISBN: 9780312537029
ISBN-10: 0312537026
Also available: THE GARDEN ANGEL (St. Martin's Press & Picador)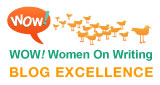 Tags: Authors