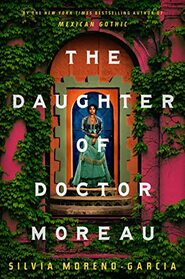 Review by Cyndi J. (
cyndij
)
Most readers will recognize the name of Doctor Moreau from the classic H.G. Wells novel, The Island of Doctor Moreau, and settle back with anticipation of what's to come.
Let's call it historical SF.  Set in the Yucatan peninsula of colonial Mexico. Carlota Moreau is the teen-aged daughter of the title. She's lived in the remote jungle hacienda all her life with only her father and a few others for company. Doctor Moreau is, maybe, a genius. He's created something no one has ever done before, but has so far received no benefit. Carlota has never been in school, never been in society, never known anything except the hacienda, but she loves it there.  There are not too many others – Carlota and her father, Montgomery Laughton the alcoholic overseer, Ramona the housekeeper, and her father's animal/human hybrid creations. Carlota knows them all and in fact, Cachito and Lupe are her best friends.
But life is about to change. Dr. Moreau is laden with debt, and so is Montgomery – both to the same man. Senor Lizaldes has funded Moreau for years, hoping for a manufactured creature he can use to work the fields.  The Europeans are desperate for workers in the cane fields, but the Mayan peoples – and others – are not eager to be treated as slaves. But Lizaldes is getting extremely impatient with the lack of progress. He wants his workers, or he's going to withdraw his funding.
Eduardo Lizaldes is the son of their patron, and this handsome, arrogant young man comes uninvited to visit one day. He's smitten with Carlota – or perhaps he just wants a conquest. Carlota is smitten with him – or perhaps she is obeying her father, who believes a marriage could solve his problems.  Montgomery is seething with anger at the presumption of this boy – or perhaps he's jealous.  The hybrids just want to seek their own destiny.  But Doctor Moreau has more than one secret, and the situation is about to spiral out of control.
You won't be surprised at anything that happens here, not if you're paying attention. Told in alternating viewpoints of Carlota and Montgomery, it starts rather slowly but has a steady buildup of tension until everything breaks loose. The characters are well drawn and the setting is perfect for the story.  I did think the ending was a bit too easy, but the sweet and sad atmosphere created by Moreno-Garcia, plus characters Carlota and Montgomery,  make it worth reading.