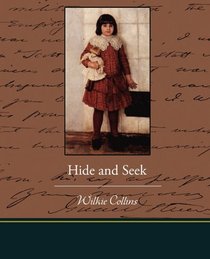 First published in 1854, this is an early suspense novel of the writer of the still read The Woman in White and The Moonstone. In Hide and Seek, a deaf and mute girl is rescued from exploitation under the big top. To minimize the risk of carnies kidnapping her back, her adopted father hides her origins under the cover of a modest middle-class family life. But her security and a family secret are threatened by a surly figure from the past, seeking the truth of the girl's circus origins and bent on revenge.
Always clever and inventive, Collins also shows a kind tender side as he introduces us readers to the quiet life of a unsuccessful artist who has endearingly opted for a career of painting portraits of family members, dogs, and horses of crude manufacturers in order to provide comforts for his bedridden wife. This lovely couple has adopted the afflicted young girl. The murky origins of the girl are revealed as the surly stranger gets on her trail.
Of course, the probability of thrilling events happening in this world is quite low, but one always trusts Collins to carry our interest through admittedly long-winded sections or coincidences that in another writer (Dickens in Oliver Twist, say) would make us jaded readers snort in indignation. At only 29 years of age, in only his third novel, Collins got a handle on what he was doing as a writer.
Unusually for a novelist of that time, Collins sets up a person with a disability as a main character, drawing on John Kitto's deafness memoir The Lost Senses. Moreover, the character is happy, able to establish relationships with others, helpful to an invalid in the house and ambitious for a career of her own. She is never an object of pity, though she does star in some sorrowful scenes. What helps, of course, is that she is a beautiful as a Pre-Raphelite Madonna.
The other remarkable point in this novel is Collins' comic sense. Collins could see humor in situations such as the drunken son sneaking back into his father's house or the incompetent artist boring his audience with contradictory explications of the symbolism in his clichéd paintings. I'm probably overstating this, but I find Collins' humor much easier to take than Dickens' facetiousness.