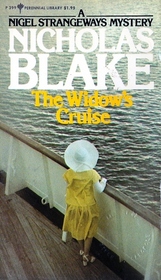 Set on a ship's cruise to the Greek islands, this 1959 mystery stars series PI Nigel Strangeways and his live-in GF Clare Massinger, a sculptress like Judith Appleby. They witness an odd situation involving a classics mistress recovering from a breakdown; her rich flashy widowed sister; a loosely educated classicist who is a popularizer and thus a scourge to the scholarly classicist; a flighty selfish school-girl who used to be taught by classicist; her twin brother; a sleazy busybody Brit; a know-all little girl, and a macho-man Greek tour guide who speaks American English.
The set-up is a bit long but things move faster with the disappearance and death of a merry widow's ugly-duckling sister the classicist and another grisly killing. Aside from the grisliness, another challenging piece of the book is the 17-year-old schoolgirl wanting "experience" from the popularizer who is twice her age. Such bold aspects do not a cozy make. This outing is not as scary as The Corpse in the Snowman or The Beast Must Die; more on the level of The Dreadful Hollow or the first one A Question of Proof.
Nicholas Blake was the penname of Cecil Day-Lewis, classics professor and the Poet Laureate of the UK from 1968 until his death in 1972. Obviously, the vocabulary is literate, carefully chosen, and engaging for us world-weary readers that expect the prose in mysteries to be flat and workmanlike at best. Blake/Day-Lewis creates convincing characters, all with attitudes and motivations that are consistent, plausible and sometimes unsettling. He is especially acute depicting children and youths, probably because he was a teacher for a time. The background scenes of the cruise on the Med are well-done, so this appeals to readers who are a little tired of the country houses of the usual golden-age mystery. Strangeways takes it all the way to the twisted and surprising ending.