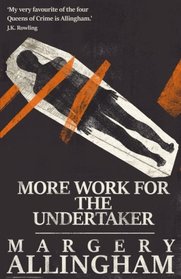 In this whodunit from 1948, taking a page out of Dickens, Allingham describes Apron Street. Though the blitz has left its scars, Apron Street still features street arabs, poky shops purveying archaic products, and horse-drawn hearses.
Too, the characters are Dickensy in their comicalness and over-the-topitude. Charlie Luke, a new young policeman, is a human dynamo. The Palionode family, though on hard times, pursue obscure scholarly interests as if it were still the wealthy indolent 1890s. The fawning yet sinister funeral director Jas Bowels has the motto "Courtesy, Sympathy, Comfort in Transit."
The suspicious death of Ruth Palinode brings in series hero Albert Campion to investigate poison pen letters and an elaborate criminal enterprise. The story borders on a parody of a whodunit with nutty wills, an enormous coffin, young misunderstood lovers, shares in a defunct mine, and the government anxious to squelch public knowledge of dodgy machinations.
Highly recommended. For me, the professional finesse of her writing, her delicate wit, her lively imagination, and her complacent determination to stay with old-fashioned devices put Allingham in the first rank of cozy mystery writers.