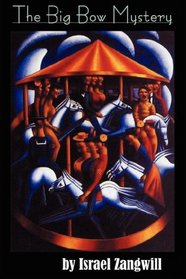 This 1892 novella may be the first genuine locked-room mystery. A landlady and ex-police detective bust open a locked door to find "the deceased lying back in bed with a deep wound in his throat… There was no trace of any instrument by which the cut could have been effected: there was no trace of any person who could have effected the cut. No person could apparently have got in or out."
Zangwill tweaks the media of the day for its relentless pandering to the morbid curiosity of the ordinary reader. There are ironically melodramatic scenes of the arrest of the suspect and courtroom antics of the judge, lawyers, and jury. The explanations for the impossible crime range from the plausible (secret passages and trapdoors) to the hilarious (a razor-wielding monkey coming down the chimney). Red herrings abound. The suspect has a realistically rotten motive.
Zangwill's prose will ramble, but this is made up for by its high-spirits and humor. He's a master of the quip and wisecrack, in the traditions of Groucho Marx and Mel Brooks (I know my examples date me – Larry David, okay?). For readers into mysteries of all sorts or those into reading the occasional pre-Golden Age mystery.
I found this novella in a Dover Books collection from 1978, Three Victorian Detective Novels, which also included Wilkie Collins' My Lady's Money and Andrew Forrester's The Unknown Weapon.