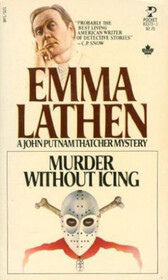 Given the reputation Wall Street bankers have in our more savvy era, it's hard to sell a mystery series starring a vice-president of the Sloan Guaranty Trust. But having read about half of the 37 books starring John Putnam Thatcher, I like them because they are set in various industries: real estate, garment making, and fast food franchising, to name just a couple, so there's a strong feeling 'this is the way the world works – or used to, anyway.'
In this 1972 mystery, the bank has changed its usual sponsorship from a symphony to a hockey team. When a potential partner of the team is killed at the airport after the team deplanes, the police get involved and Thatcher has to identify the perp.
This was written just a bit before the sports industry became the cultural and economic behemoth that it is today. So it is just as interesting to read as a cultural artifact – a shard of pottery, as it were – besides as a mystery. Recommended to fans of boxing on ice too, especially ones who know who Rocket and Pocket Rocket are.