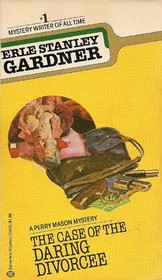 The 72nd Perry Mason novel (1964) has its funny moments and the usual two-guns shenanigans. But you can hear the gears grinding. It's too complicated for easy understanding, the dialogue is stiff, it hides crucial information, and it goes over a minor sequence of events three times.
A woman wearing big sunglasses leaves in Mason's office Adelle Hastings' purse with $3,000 and a recently fired .38 with two spent shells. When Mason tracks Adelle down, she explains that her purse was stolen from her car. Adelle explains that she, the third wife of Garvin Hastings, is in the process of obtaining a divorce. Garvin wants to keep things amicable even to the point of acting in such a way that it seems he's having second thoughts about asking Adelle to go to Las Vegas for a quickie divorce.
The bullets from those two shells are found, one in poor Garvin's brain pan, and the other having passed through his skull into the bed where he was sleeping. Both of his exes have shaky alibis and plenty of red herrings flop around on the dock.
The fun highlight is when Detective Tragg wants Mason's receptionist Gertie to identify Adelle. Mason has her put on her big dark glasses while Della ushers in six women also with dark glasses for a surprise line-up. Tragg is mighty sore at Mason's tactic.